purveyors of beef & beer
For years owner Fiore Moletz dreamed of a burger joint and brewery where ETHICAL, LOCAL & SUSTAINABLE practices are the norm! A place like Burgh'ers Brewing where the kitchen roots were deep in technique and the beer are handcrafted for everyone to enjoy!
Burgh'ers is...
a chef driven smash burger joint and craft brewery
focused on local, ethical and sustainable food and drink!
GET SMASHED, EAT RESPONSIBLY!
Here's what we're brewing
Penn Ave. Pale Ale
American Pale Ale
ABV: 6.3% / IBU: 45
A satisfying American Pale Ale with a well-rounded malt composition that finishes with a palate-refreshing bitter and floral hop character.
Burgh'ers is just a short trip down Penn Ave to Lawrenceville!
Oat Black Water
Oatmeal Stout
ABV: 6.6% / IBU: 43
A medium-bodied oatmeal stout that invites sip after sip. A balance of rich roast, milk chocolate, subtle vanilla, and just a hint of spicy hops.
This is a tribute to our Brewer Neil and a catchy tune from the Doobie Bros Black Water. Neil hails from Hattiesburg, MS near the banks of the Big Muddy. "Oat Black water, keep on rolling… Mississippi moon won't you keep on shining on me…"
Publick House Bitter
ABV: 6.0% / IBU: 43
A traditional British pub ale known as an ESB (extra special/strong bitter) with a robust bready malt presence and a complimentary pairing of spicy and bitter hops. Finishes crisp and clean.
This beer is a cheeky reference to the PA liquor control board. The name is a throwback to when the UK government nationalized brewing and pubs during WW1 to control the productivity of munitions plant workers. These pubs were called Publick Houses.
Hipstertone IPA
New England IPA
ABV: 6.5% / IBU: 30
Tons of tropical and citrus fruit spring from this slightly hazy, big-bodied juice bomb.
Named in honor of all you hipsters visiting our hip location in hip Lawrenceville.
Saison Michelle
Rosemary Saison
ABV: 7.4% / IBU: 27
A delicate, French-style Saison with a nuanced rosemary nose that plays well with the white pepper, coriander and citrus character of the Saison Dupont yeast strain.
Named in honor of Burgh'ers owner, Michelle. It's a soft-spoken blonde hiding a big punch of flavor.
Belgian Block
Belgian Golden Ale
ABV: 8.5% / IBU: 29
Czech and Slovenian hops add a touch of floral and spice to this traditional Belgian beer.
This beer is an homage to the former pavers of our city streets, the Belgian block. A trove of discarded Belgian blocks was discovered during construction of Rivers Casino. These blocks now beautifully pave Market Square.
Burghers 1890 Lager
American Lager
ABV: 4.7% / IBU: 12
A Lager just as American as our beloved Pirates. Light-bodied, light in color, and just the right amount of flavor to quench any beer drinker's thirst.
This beer pays tribute to our first baseball team, the Pittsburgh Burghers. When news broke of a fast-and-lose player trade deal in 1890, the headlines characterized these practices as piratical. Our team as since been known as the Pirates!
Überbrüken
Berliner Weisse
ABV: 3.4% / IBU: 5
A traditional Berliner Weisse kettle-soured with lactobacillus, and fermented very dry. It's crisp and refreshingly tart-- perfect for sunshine drinking. This style of beer is traditionally served Mit Schuss (with syrup), usually raspberry or woodruff flavored.
The name literally translates to "over bridge," but is used figuratively to mean, "to bridge the gap." Sharing a beer is the ultimate way to bridge the gap between the shores that divide us!
Sweat & Gold
West Coast IPA
ABV: 7.5% / IBU: 71
An old school throwback to the West Coast original IPA. A slightly malty body that is supported by piney, earthy and dank hops, with just a touch citrus to brighten things up.
Pittsburgh is a region of "sweat and gold… with an untiring fury to produce," wrote Herbert Casson in his book The Romance of Steel (1907). This IPA is as old school as Pittsburgh's industrial roots.
Jail Trail Wheat Ale
American Wheat Ale
ABV: 4.9% / IBU: 30
Refreshing with subtle spice, tangerine and ripened lemon notes.
This beer references the Eliza Furnace Trail, locally known as the Jail Trail, because it passes right by the Allegheny County Jail.
Jack Rabbit
Double IPA
ABV: 8.6% / IBU: 98
Classic DIPA featuring ripened fruit wrapped in earthy, resinous, and piney hops with a light body that encourages another sip.
Its namesake is one of the oldest wooden roller coasters in the world—the Jack Rabbit at Kennywood. Take a ride on my hop coaster!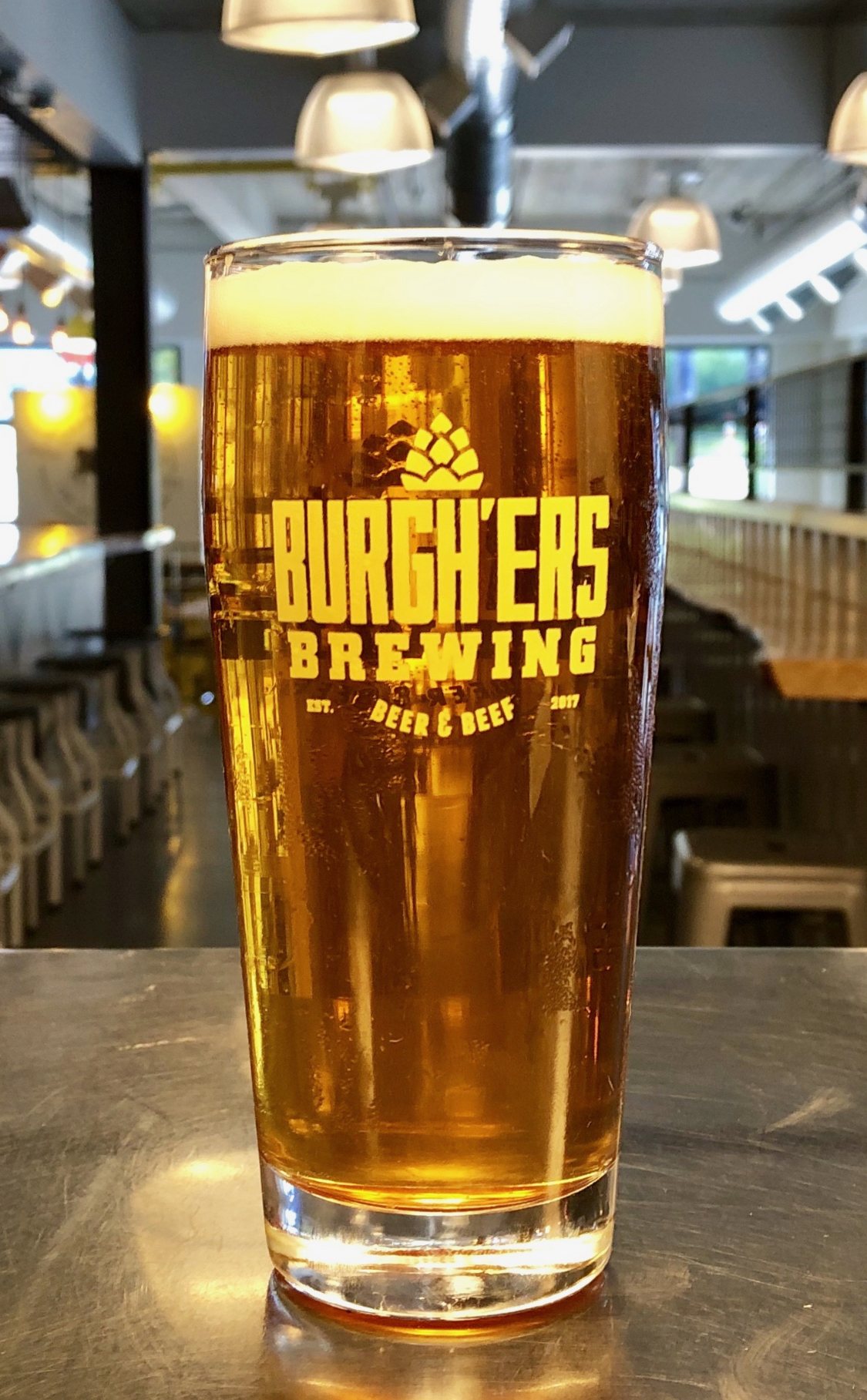 ZELIENOPLE
Burgh'ers Burghers
215 W New Castle st
Zelienople PA 16063

724.473.0710

HOURS:
Monday 11AM–9PM
Tuesday 11AM–9PM
Wednesday 11AM–9PM
Thursday 11AM–9PM
Friday 11AM–10PM
Saturday 11AM–10PM
Sunday 11AM-8PM
Happy Hour 2:58-5:58 M-F

Reservations not available
LAWRENCEVILLE
Burgh'ers
3601 Butler Street
Pittsburgh, PA 15201
412.904.2622

HOURS:
Monday 11AM–9PM
Tuesday 11AM–9PM
Wednesday 11AM–9PM
Thursday 11AM–9PM
Friday 11AM–10PM
Saturday 11AM–10PM
Sunday 11AM-8PM
Happy Hour 2:58-5:58 M-F
Please contact us for large parties or private events
BOOK A RESERVATION
at Lawrenceville location: 412-904-2622
Most tables are saved for first come first serve.
Our reservationist is available Monday-Sunday 11am-9pm.